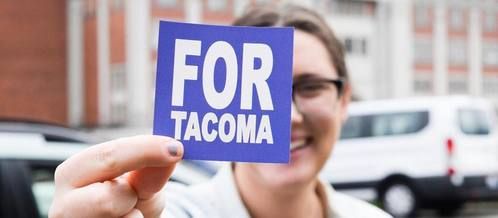 Since God is for us, we are FOR Tacoma. Lots of people know (or think they know) what Christians are against. We want our neighbors to know what we are for. We are for our neighbors, and so we are FOR Tacoma. We want our neighbors to thrive, and we want them to experience God's love in their day to day lives. We believe that we have been placed in this neighborhood for a reason and that reason is to be FOR Tacoma.
In June 2017, First Presbyterian Church launched their #FORtacoma campaign. As a church we committed ourselves to the buildings and communities within the local Stadium District. We have made it our assignment to adopt, serve, and love the people of our neighborhood.
If you were assigned to go on a Mission to a foreign country, you would most likely put a great deal of effort into praying for the country. Spending time to learn about the people, customs, and culture of the country you were going to be serving in. Have you ever thought of your neighborhood in this way?

We would like to encourage you and your families to treat the neighborhood around our church as a mission field. Whether it through prayer, encouragement, friendship or simply saying "hi", we believe in finding opportunities to make a difference in our local community.

Blessings as you step out in faith on this adventure to be FOR Tacoma.
Businesses We Are Praying For
Conservatory Place 319 South G St
W.W. Seymour Conservatory 316 South G St
Pranavis Medical 309 South G St
Purple Apartments 3rd and South G St
Brick Apartments 215 South G St
Conservatory Place 203 South G St
Rush Construction 5 South G St
King's Deli 326 Tacoma Ave. South
Yu's Teriyaki 322 Tacoma Ave. South
Stucco Building 316 Tacoma Ave. South
Wood Building 308 Tacoma Ave. South
Olympic Apartments 304 Tacoma Ave. South
Park Towers 220 Tacoma Ave. South
Miller Apartments 202 Tacoma Ave. South
Multi-Care Offices 124 Tacoma Ave. South
First Presbyterian Church South Chapel 120 Tacoma Ave. South
First Presbyterian Church 20 Tacoma Ave. South
Wright Park Apartments 325 Tacoma Ave. South
Kensington Apartments 247 Tacoma Ave. South
Stillwater Apartments 245 Tacoma Ave. South
Lauriston Apartments 235 Tacoma Ave. South
Gray Office Building 227 Tacoma Ave. South
VSI 225 Tacoma Ave. South
The Hub 203 Tacoma Ave. South
Cascade Park Assisted Living 242 Saint Helens Ave. South
Duxbury Apartments 226 Saint Helens Ave. South
Darnell's Auto Body 222 Saint Helens Ave. South
Destiny City 218 B Saint Helens Ave. South
King's Books 218 A Saint Helens Ave. South
Doyle's Public House 208 Saint Helens Ave. South
The Harmon 204 Saint Helens Ave. South
Metropolitan Apartments A 233 Saint Helens Ave. South
Sel Restaurant 229 Saint Helens Ave. South
Rembrandt Apartments 219 Saint Helens Ave. South
Kirk Building 201 Saint Helens Ave. South
Landmark Convention Center 47 Saint Helens Ave. South
Orion Apartments 29 Saint Helens Ave. South
The Windsor 17 Saint Helens Ave. South
Carpe Diem Henry Drum House 9 Saint Helens Ave. South
Salon Peluche 7 Saint Helens Ave. South
One Saint Helens Condominiums 1 Saint Helens Ave. South
Broadway Condos 210 Broadway Ave. South
Apartment Building 43 Broadway Ave. South
Apartment Building 35 Broadway Ave. South
Broadway Apartments 31 Broadway Ave. South
Overlook 1 Broadway Ave. South
Shell Gas Station 801 Division and Yakima Ave.
Wright Park
Legacy Apartments Corner of Yakima and Division
Casablanca Apartments 720 North 2nd Street
Rhein Haus 649 Division Ave.
Mud Bay 635 Division Ave.
Orange Theory Fitness 637 Division Ave.
Apartment Building A-F 210 North G Street
New Orleans Apartments 212 North G Street
Small Bungalows 216 North G Street
Leland Apartments 224 North G Street
Starbucks 640 North 1st Street
Jimmy John's 636 North 1st Street
Sports Clips 634 North 1st Street
North Slope Coffee Shop 618 North 1st St
Stadium Thriftway 618 North 1st Street
Tease Chocolates 610 North 1st Street
Morrell's Dry Cleaners 608 North 1st Street
Stadium Apartments 102 North G Street
Anthem Coffee 102 North G Street
Car Starr 111 North G Street
Tacoma Tent and Awning 121 North G Street
Stadium Dental 4 Tacoma Ave. North
Howell and Associates 6 Tacoma Ave. North
Copper Door 12 Tacoma Ave. North
Franco the Taylor 16 Tacoma Ave. North
Tacoma Counseling Associates 20 Tacoma Ave. North
Edward Jones 22 Tacoma Ave. North
Salamone's Pizza 24 Tacoma Ave. North
One Tacoma Building 1 Tacoma Ave. North
La Bella Nails 7 Tacoma Ave. North
Ambassador Apartments 11 Tacoma Ave. North
Abtill Tax Services 15 Tacoma Ave. North
Tricky's Pop Culture Emporium 17 Tacoma Ave. North
Hair Muse 19 Tacoma Ave. North
Sierra Construction 21 Tacoma Ave. North
Tacoma Wine Merchants 23 A Tacoma Ave. North
Superior Driving School 23 B Tacoma Ave. North
Harvester Restaurant 29 Tacoma Ave. North
Columbia Bank Corner of 1st and Tacoma Ave. North
Indo Asian 110 Tacoma Ave. North
Ball Auto 116 Tacoma Ave. North
JC Richards Construction 120 Tacoma Ave. North
Bentson's Printing 118 Tacoma Ave. North
Shake Shake Shake 124 Tacoma Ave. North
Ranko's Pharmacy 101 Tacoma Ave. North
Platinum Spa 105 Tacoma Ave. North
Earth Economics 107 Tacoma Ave. North
House 107 Tacoma Ave. North
Open Art Studio 109 Tacoma Ave. North
Art House Cafe 111 Tacoma Ave. North
Town House Apartments 117 Tacoma Ave. North
Bayview Apartments Corner 2nd and Tacoma Ave. North
Ansonia Apartments 219 Tacoma Ave. North
Edge 1 Broadway Ave. North
Office Building 15 Broadway Ave. North
Ambassador 16 Broadway Ave. North
Bayside Gardens 15 and 25 North E Street
Stadium Point 35 North E Street
Stadium High School 111 N E St, Tacoma
One Stadium Tower 1 Stadium Way North